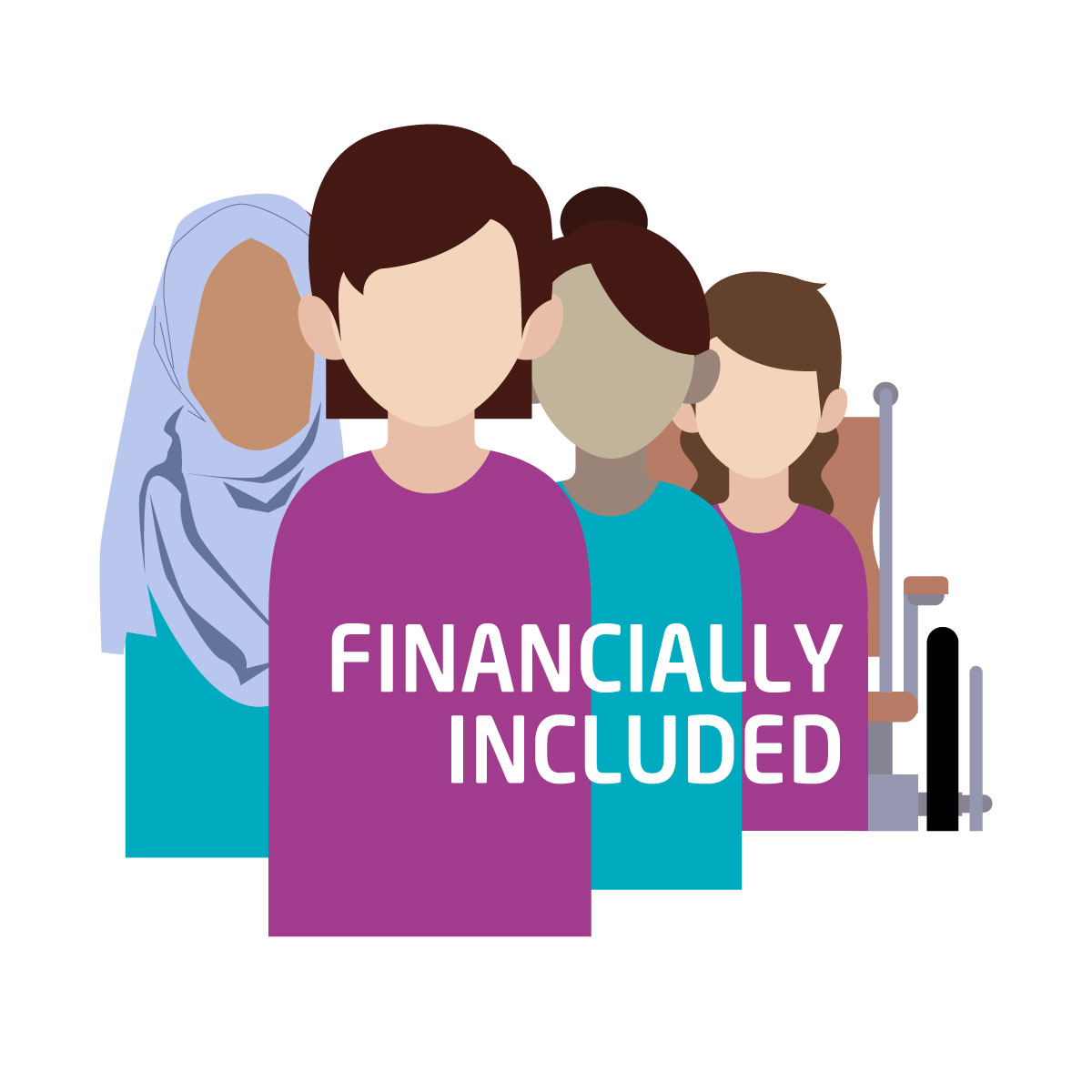 Robyn Moffat-Wall, Training and Engagement Officer,Financially Included
Illustrations by Nic Dickson.
Financially Included is a partnership project between GEMAP Scotland and the Glasgow Violence Against Women Partnership, funded by the Scottish Government's Delivering Equally Safe Fund.
We are the only project in Scotland solely dedicated to economic abuse and the financial impact of gender-based violence.  Our small team aims to improve the response to economic abuse by providing specialist advice services alongside the development and delivery of economic abuse training.  Our one-to-one support helps women who have experienced gender-based violence on their journey towards financial freedom, providing expert benefits and money advice.
We used partnership and coproduction with the women's sector and advice sector as well as the learning from our casework to develop training and tools. We are now well underway in upskilling the money advisers across Glasgow.  Our training will ensure that in the city economic abuse is identified earlier and that the response is trauma informed and robust for survivors across the city.
Economic abuse impacts 1 in 6 women in the UK (Refuge, 2020) and in a study by the Women's Resource Centre (2023), they found a 93.2% increase in economic abuse, coercive control and difficulty leaving abusers because of the Cost-of-Living Crisis.
What is Economic Abuse?
Economic Abuse is defined as: "Behaviours that control a woman's ability to acquire, use, and maintain economic resources, thus threatening her economic security and potential for self-sufficiency." - Adams et al. 2008.
This can mean control of money as well as economic resources we all rely on to go about our days; phone, keys, shoes. If someone were to control our access to our necessities, how far would we get through a normal day?
There are many forms economic abuse can take, some victim-survivors have never had control of their own finances in their lives, some only allowed 'pocket money'.
Reflecting on a year of tackling economic abuse
The Financially Included Project began in January of 2022, with an initial development phase, we'd like to use Challenge Poverty Week as an opportunity to reflect on the last year of tackling economic abuse in Glasgow.
In the last year, our two Advice and Capability Officers have supported 208 new clients. The vast majority (77%) of the women we support live in poverty and require intense support to manage their finances. Our total Client Financial Gains in the last year is a staggering total of £330,849.32! This is made up of benefit awards, grants, debt write-offs and other types of income maximisation.
The Scottish Women's Budget Group found that 23% of women that responded to their 2023 survey on the cost-of-living crisis had taken on more debt to cope. This is reflected in our client's experiences – where they are dependent on lines of credit to get by.
Many of our clients have sizeable debts from various creditors opened fraudulently or were coerced to take out by their abusers. One woman we are supporting owes almost £15k to a variety of credit cards and loan providers.
When working specifically with financial abuse, we have successfully secured debt write-offs and had women's credit scores repaired to ensure a reduction in the longer-term impact of their abuse. These successful cases have been well received by private financial institutions.
Statutory debt, however, remains difficult to navigate, there is very little room for negotiation or discretion in statutory debt reclaim procedures. This leaves victim-survivors facing unaffordable repayment expectations that severely impact their household income for years serving as a constant reminder of the abuse.
The Women's Resource Centre (2023) found a 50% increase for complex casework delivered by women's services across the UK, most of which is related to the difficulty of living in poverty. They also found a 23.8% increase in demand for welfare rights and benefits advice – rising to 40% for Black and Minority Ethnic services. These figures give us an insight into how poverty is experienced differently by women fleeing abuse often forced to flee their homes and social support system for their safety.  This increase in complex casework coupled with the cost-of-living crisis and a bleak funding landscape for the advice and women's sectors needs to be considered as an area requiring enhanced funding.
Victim-survivors have told us that getting support from a specialist worker who understand what they've been through, the impacts of trauma and are there when they're ready to engage has helped them with their recovery journey following abuse.
When discussing poverty, we often focus on the bottom line: income. But for our clients, it's also about how they feel about their financial position, and their relationships with money.
Many of our clients carry a lot of shame or guilt about their financial position. Not only do they struggle with feelings of shame and guilt associated with gender-based violence, but also with the stigma we place on money in the UK – especially debt. Our culture frames talking openly about money as crude or impolite. Economic Abuse thrives within this culture.
The support of a trusted specialist to regain control of their finances makes a huge difference for victim-survivors' confidence, ability to make informed choices, and to hope for a better future.
We welcome today's policy ask: a Scotland where we all have enough to live a decent and dignified life. We welcome the Poverty Alliance's call for a Minimum Income Guarantee, and call for any implementation of this policy to be paid to each individual rather than household – to avoid it becoming another tool used to enact economic abuse. While Universal Credit can be paid separately, it is often unsafe for women to request this for fear of escalation of their abuse as a retaliation. Consideration for victims of domestic abuse must be considered within this policy.
Our work over the last year only scratches the surface of the impact and prevalence of economic abuse. We have set big goals to achieve lasting change!
We welcome the Poverty Alliance's policy asks and advocate for a gendered lens to be applied to avoid deepening inequality.
Keep up with us: @FinanciallyIncluded
Links:
Adams et al, 2008: https://www.researchgate.net/publication/5444856_Development_of_the_Scale_of_Economic_Abuse
Refuge, 2020: https://refuge.org.uk/wp-content/uploads/2020/10/Know-Economic-Abuse-Report-2020.pdf
Scottish Women's Budget Group, 2023: https://www.swbg.org.uk/content/publications/SWBG-Cost-of-Living-report-proof-06.pdf
Women's Budget Group, 2023: https://www.wrc.org.uk/Handlers/Download.ashx?IDMF=549ce278-7616-4b1b-9b16-12f749d2bb21