Do you want to influence the decisions that affect poverty? Then join us and Get Heard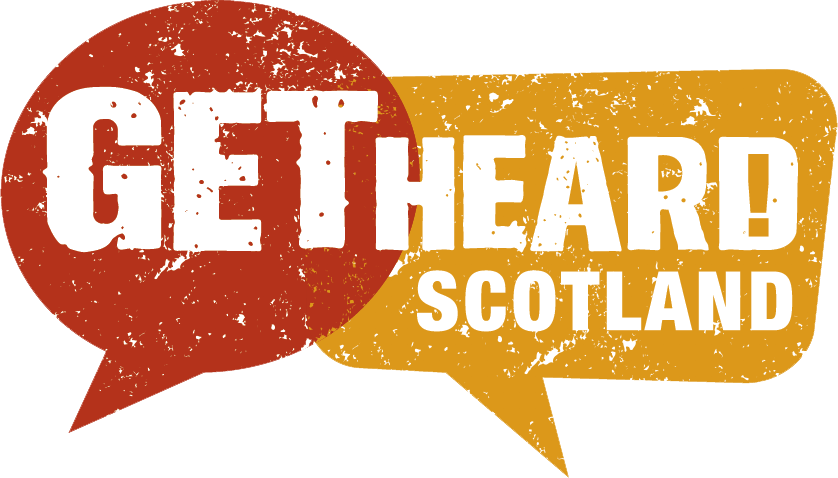 Get Heard Scotland (GHS) helps people affected by poverty get their voices heard on the policies and decisions that most impact their lives. The programme is coordinated by the Poverty Alliance and funded by the Scottish Government as part of its Child Poverty Delivery Plan.
Put simply, it aims to find out what is working, what is not and what people would like to see changed to help reduce poverty. Most importantly, GHS should have a real impact on policy, and on the lives of people living in communities affected by poverty across Scotland.
Who should get involved?
We want to hear as wide a range of voices and experiences of poverty as possible to ensure that local and national responses to poverty reflect the reality on the ground. We are particularly interested to hear from individuals with experience of poverty, national organisations and community based organisations.
Individuals with experience of poverty
We want members of any communities affected by poverty – as well as people who work in or with those communities – to get involved in GHS, particularly people from the priority groups identified in the Child Poverty Delivery Plan (families with children under 1; large families; minority ethnic families; families with a disabled child or parent; young mothers, and lone parents).
It is vital to us that the widest and most diverse possible range of voices are heard, and we are particularly keen to ensure that BME groups and organisations, young people, women's organisations, LGBT+ organisations and disabled people are involved in GHS.
National and regional organisations
Our national and regional partner organisations help us ensure the widest possible reach of the programme. Our partners use their networks to run discussion groups that feed into GHS, and help us promote the programme in order to get a diverse range of voices heard.
Community-based organisations
We want community-based organisations that work with people who are experiencing – or are at risk of experiencing – poverty to help us ensure that the people that they work with have their voices heard. Community-based organisations have the knowledge, networks and know-how and are vital partners in our mission of ensuring people experiencing poverty can have a real and meaningful say in the policies that affect their lives.
We want to hear from you!
Get Heard is all about you organising discussions about what needs to change in your community to help address poverty in Scotland.
Run a discussion group - A toolkit for talking!
Use our toolkit to facilitate discussions about how to address poverty. You can use this toolkit as much or as little as you wish to guide and inform conversations.
Discussion groups should be focused around the three simple questions that are at the heart of Get Heard Scotland:
What works in your community?
What doesn't work?
What needs to change?
Find out more about the toolkit here.
Become a partner
We are always looking for more national and regional partners to come onboard and ensure that we have a truly Scotland-wide reach. To discuss becoming a GHS partner email Robin Tennant, Fieldwork Manager at robin.tennant@povertyalliance.org
Give us your feedback
A key part of the the Get Heard Scotland process is gathering your views and ideas on how we can best address poverty in Scotland. We'll make sure the results of your discussions are passed onto the Scottish Government and your Local Authority and Health Board.
We have produced a simple feedback form to help capture the discussions that take place. The form should be filled in by facilitators or their note takers and returned to us. Don't forget to put your contact details on the form so that we can keep in touch.
Feedback form coming soon - please email robin.tennant@povertyalliance.org 
Latest News from Get Heard
We have recently (May 2020) launched four new reports from Get Heard Scotland.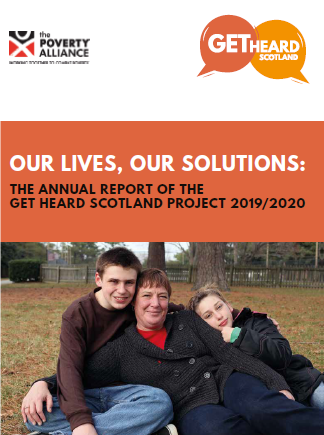 Our Lives, Our Solutions is the annual report of the initiative. It reveals the range of challenges being faced by people living in the grip of poverty across Scotland – including inadequate social security, digital exclusion, food insecurity, high energy costs and insecure work –  as well as their ideas and proposals for action.
The report was based on the evidence generated by 37 community discussions that took place between August 2019 – December 2019 in Midlothian, Highlands, North Ayrshire, Edinburgh and Glasgow, with participants being asked to reflect on what's working well in their community, what's not working well, and what needs to change to better support people living on low incomes and unlock people from poverty. We have also launched three summary reports for Midlothian, North Ayrshire and Highland.
Click this link to read the full report, Our Lives, Our Solutions.
Click this link to read the North Ayrshire Summary Report
Click this link to read the Highland Summary Report
Click this link to read the Midlothian Summary Report