The Poverty Alliance coordinated the recent Challenge Poverty Week ( 7- 13 October), a campaign that is building a stronger, broader movement of people with the will, knowledge and determination to tackle the rising tide of poverty. Campaigns Officer Irene Tortajada reviews some of the highlights of the Week.
An overwhelming response
We are amazed with the incredible response and support demonstrated for this year's Challenge Poverty Week across Scotland! We want to thank the more than 320 organisations that have participated in the Week, organising over 450 events and actions, adding their voices to a movement of people who believe the levels of poverty in this country are an outrage, and are ready to act to loosen its grip.
A wide variety of organisations and activists added their voice to the campaign, including 24 local authorities, leaders of Scotland's faith groups, schools, businesses, third and public sector organisations, trade unions, politicians, football clubs and community groups and activists.
The Poverty Alliance coordinated the Week and delivered several events too, including our Annual Conference "A Parliament to Tackle Poverty? 20 Years of Scottish Parliament", with almost 200 attendees.
A glimpse of the Week
It was very important to involve local authorities in this year's edition, given their key role in addressing poverty on a local level, partly through their Local Child Poverty Action Plans. It was also essential to get them on board because they are ideally placed to involve frontline organisations in their communities providing vital services.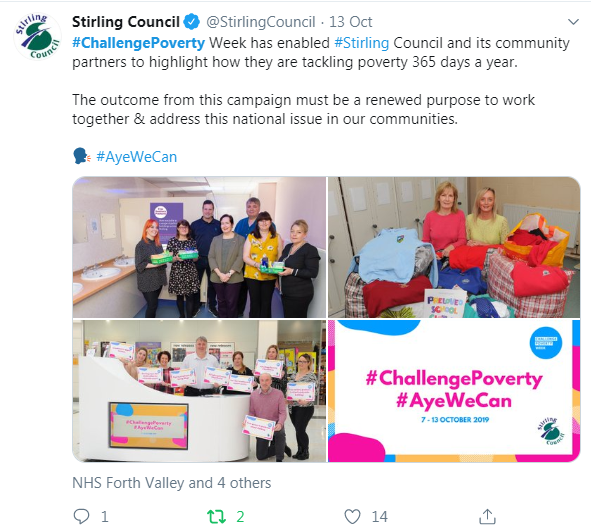 Twenty-four local authorities got involved in Challenge Poverty Week, many organising a whole week of events with their partners. Among these were Clackmannanshire's Inclusive Growth Summit, Glasgow City Council's young persons' debate about the solutions to poverty, with representatives from every secondary school in Glasgow, and Dumfries and Galloway's series of community discussions gathering views and solutions in cafes across the region. Some local authorities launched new initiatives, like North Ayrshire Council's launch of a free reusable nappy scheme, – becoming the first Council in the UK to provide free "birth to potty" real nappy packs, and Stirling Council's "Direct Funerals" pilot launch, a new service which will ease the financial difficulties experienced by some families after the loss of a loved one.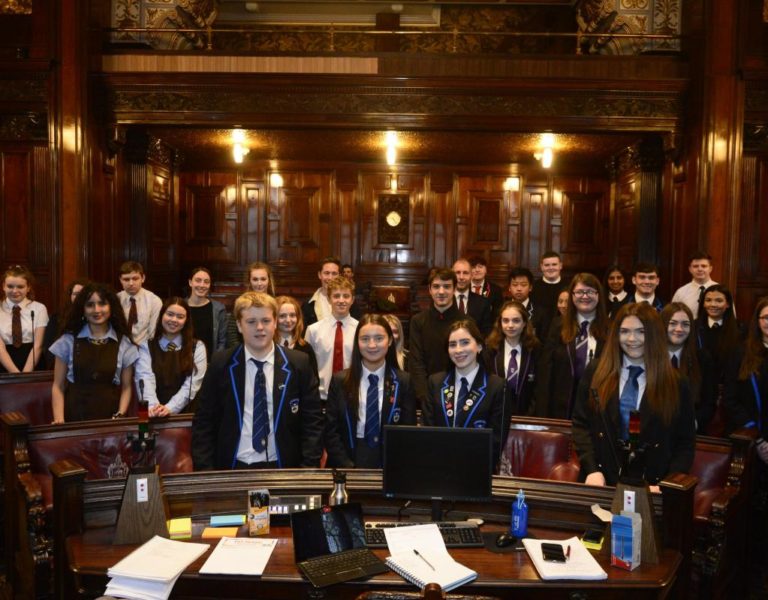 Faith leaders from across Scotland also called for action to loosen the grip of poverty. A joint statement from Scottish faith communities was signed by representatives from Christian, Hindu, Jewish and Islamic faiths, declaring a "moral responsibility" to address the problem. The show of unity and solidarity from leaders of different religions calls for more action to "tackle the rising tide of poverty".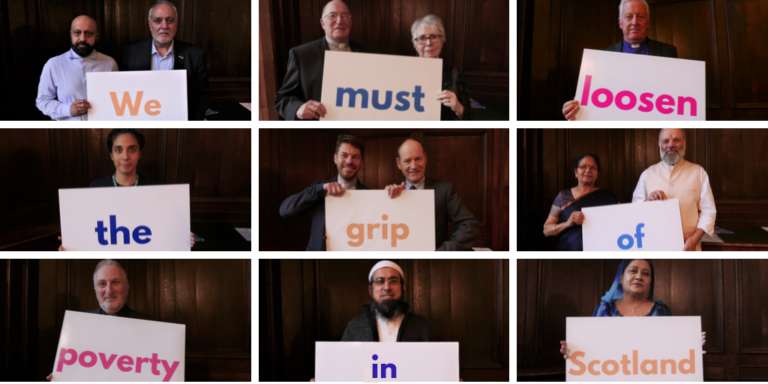 Young people played a key role in the campaign. Almost forty primary and secondary schools across the country delivered themed lessons, workshops and assemblies with young people to discuss the meaning, causes and solutions to poverty, encouraging them to think about the issue and add their voices to the movement. STUC also got involved, delivering an event called "Power not Precarity: Creating a Young Workers Charter", aimed at young people aged 16-27.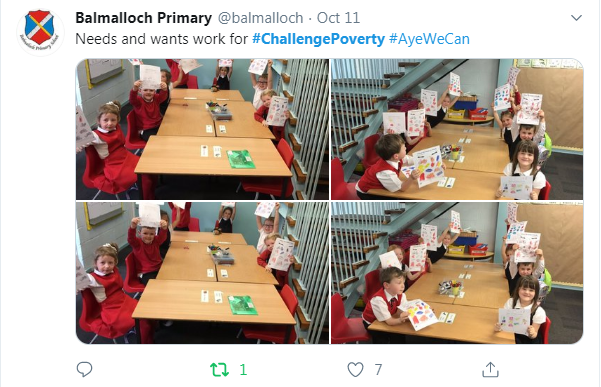 Once again there was cross-party support for the campaign, with more than 30 MPs and MSPs from all main parties making pledges to take further action to address poverty and visiting organisations, businesses and community groups in their constituencies that challenge poverty every week of the year. Supporters included Jackson Carlaw MSP, who shared a supportive video for the campaign, outlining his reasons to join the movement. John Lamont MP visited WSZ Joiners Limited in Galashiels, to learn more about how becoming a real Living Wage employer helps tackle poverty. Richard Leonard MSP visited StepChange, a debt charity offering support with money issues, and organised an event in the Gorbals to build a manifesto driven by the experience of service users and workers on the front . Aileen Campbell, Cabinet Secretary for Communities and Local Government was also a very active supporter of the Week. She was the keynote speaker at The Poverty Alliance Annual Conference, and also spoke at JRF's Poverty in Scotland report launch event and our fringe meeting at the SNP conference, which we organised with CPAG Scotland and OPFS.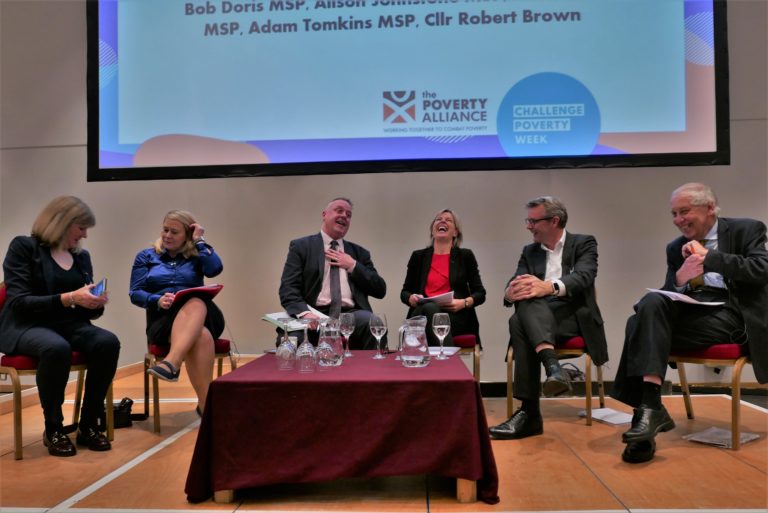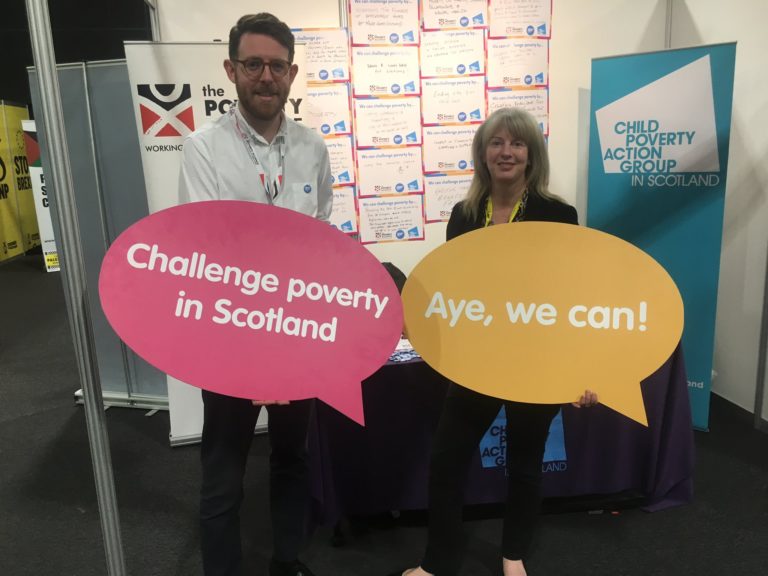 Community groups held a range of events and discussions, including a Get Heard Scotland discussion with BME women about their experiences of poverty and how to ensure their full participation in society, facilitated by Radiant and Brighter. Similar discussions were delivered by a range of other groups, including the Glasgow Disability Alliance and One Parent Families Scotland. The community organisation STAR project, in Paisley, launched their new Community Fridge Recipe Book, inspired by their Community Fridge and Pantry, written by community members.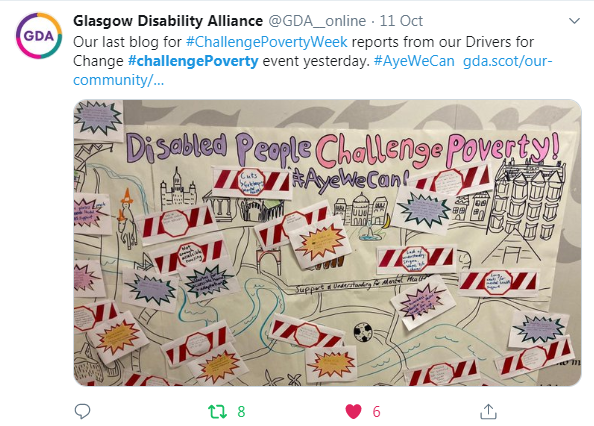 Get Glasgow Moving, Sustrans, Bikes for Good and Cycling Scotland also participated in the campaign, stating the need for affordable sustainable transport to address poverty. Bikes for Good organised a special sign-up session for the Bikes for All programme, offering £3 nextbike membership to people of Glasgow who might not be able to afford a bike or a city bike membership.
Businesses also added their voices to the campaign, calling for employers to consider their role in pulling people out of poverty, by paying the real Living Wage and ensuring essential goods and services don't cost extra to people on low incomes. Standard Life Aberdeen organised a roundtable discussion in Edinburgh with businesses and representative organisations, about their role in addressing poverty.
Football clubs like Celtic FC, Partick Thistle and St Mirren joined the campaign too, creating support videos and statements highlighting the need for collective action to solve poverty.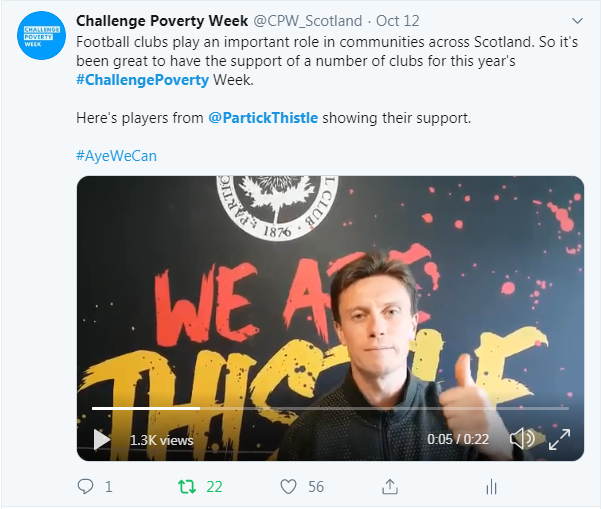 What's next?
Challenge Poverty Week is over but our collective work isn't. We're emerging from the week as a stronger, broader movement of people who believe that the levels of poverty in this country are an outrage, and we are ready to act to loosen its grip.
Here's what you can do next: